Soldier of the Month: November/December 2018
Note: Beginning in 2019, a Soldier of the Month will be picked quarterly due to the busy upcoming months for the Backstreet Boys, staff and fans. After the DNA World Tour, SOTM will go back to its regularly scheduled programming. :)
For Maryam Allos, of Canada, the Backstreet Boys is something that she has always been thankful for having in her life.
As a teenager living in Iraq, she first became a Backstreet Boys fan after being introduced to them by a cousin. Thanks to the Backstreet Boys, she learned English.
"I learned it through their songs so I (could) understand what they were saying," Maryam said. "I started listening to songs as just music. My English was limited to simple vocabulary and minimal conversation."
According to Maryam, hearing Brian's soft voice and rest of the band made her want to understand the meaning to the songs and not just listening to music.
"I started listening to the songs, writing down what I thought I was hearing," she said. "I (looked) up the lyrics online and compared them to what I wrote. I corrected the mistakes I had, translated the words I did not know, and my English became stronger."
Besides learning English, the Backstreet Boys came Maryam something else – hope. Her parents migrated their family to Canada so that she and her sister would have a safer and better life.
"Back home, we had no hopes and dreams, because our future was so unclear," she said. "Listening to their music gave us hope and helped us dream outside the box. I remember watching music videos with friends and we were able to see through their story what our story can be."
According to Maryam, she realized that her life didn't just have to be about war.
"Love can exist in the strangest places," she said. "Life can be tough, but there is always light at the end of the tunnel. The world isn't always at war, and kind hearts can still be found. I remember the joy the music gave me and the people around me. It's an instant smile on my face."
Fan Club Username:
maryamallos
Twitter:
maryamallos

Where are you from?
I was born and raised in Iraq until after the war (2003) , I moved to Canada in 2005
What do you do for a living? (job, etc.)
I am a Human Resources Generalist for an engineering/ manufacturing company. I also volunteer for the Catholic Social Service to teach English as a Second language to new comers. I am also a member of Random Acts for Kindness.
Tell us a little bit about yourself:
I love and enjoy helping people. I put myself in others' shoes and understand that everyone is fighting their own battle. I came from a country where a future did not seem possible. My parents are my biggest influencers, they gave everything they had and started their lives over to ensure a better future for my sister and I, and I hope I can be half the people they are one day. I was raised to believe everyone is equal and to be kind to everyone around me. I appreciate the little blessing in life.
How long have you been a BSB fan?
Since forever! I think have been a BSB fan for over 18 years.
How did you become a fan?
If my memory serves me correctly, I started listening to an Irish band called Westlife, that was my 1st boy band. Not long after, my cousin brought me BSB CD and the rest was history. I pretty much introduced my entire junior high and high school to them, I was ahead of my time lol. BSB and Westlife were always my go to until today.
What is your favorite BSB memory?
On my 15th birthday (my last birthday in Iraq 2004) I choreographed and practiced a dance for 3 of my friends, my sister and I (we called ourselves Girls on Fire lol) to BSB's Larger Than Life and performed it in front of 20 girls. Everyone was in shock and impressed. Everyone still talks about it until today.
What is your favorite BSB song and why?
That is a tough one. When I was 15 and on the flight to Canada, I listened to "Climbing the Walls" on the plane nonstop and it was the 1st time I remember crying in my life. The song was on repeat and I cried every time I listened to it, it meant so much to me. It resonated with me at the time remembering all the friends and family I was leaving behind. (It was a 30 hour trip in total). Unloved, and Shattered were good during the tough times. Downpour, Siberia and Chances are my current on repeat. See I can't pick just one lol
What is your favorite BSB video and why?
Incomplete is the one that came to mind 1st, just all the chaos that was happening in the video portraying how incomplete and a mess life can be when the ones you care about are not there.
Who is your favorite Backstreet Boy and why?
NICK CARTER, that was the teenage crush lol, I think because he was the youngest and closest to age. They all have a special place though!
How has BSB impacted your life?
They keep me sane, when I am stressed at work, you'll hear BSB playing. Their "broken heart songs" make me push harder at the gym.
What is your favorite thing about being a BSB fan?
I love BSB because they are the only band that I know off that have songs dedicated to thanking their fans, such as; Larger Than Life and Everyone.
Have you been to Vegas? If so, how many times and if not, are you planning on seeing a show?
Yes I have been twice, but prior to BSB' residency. I am planning on seeing BSB in Edmonton Alberta July 2019. I already got my tickets and pre-ordered the new CD :D
What has been your favorite BSB moment over the past 25 years?
Them liking my picture on Instagram couple of weeks ago … but more than that; MEETING THEM IN PERSON in 2014. They even took a picture with my country's flag and asked about the well-being of my family in Iraq. I actually memorized their entire " In A World Like This " Album couple months before the concert so I would be prepared, you never know! lol
What's one thing you are most looking forward to with the future of the Backstreet Boys?
I hope they continue doing the BSB cruise and that one day I can get on it. I am looking forward to more concerts and more chances to meet them. I hope I can get on the stage next to them one day.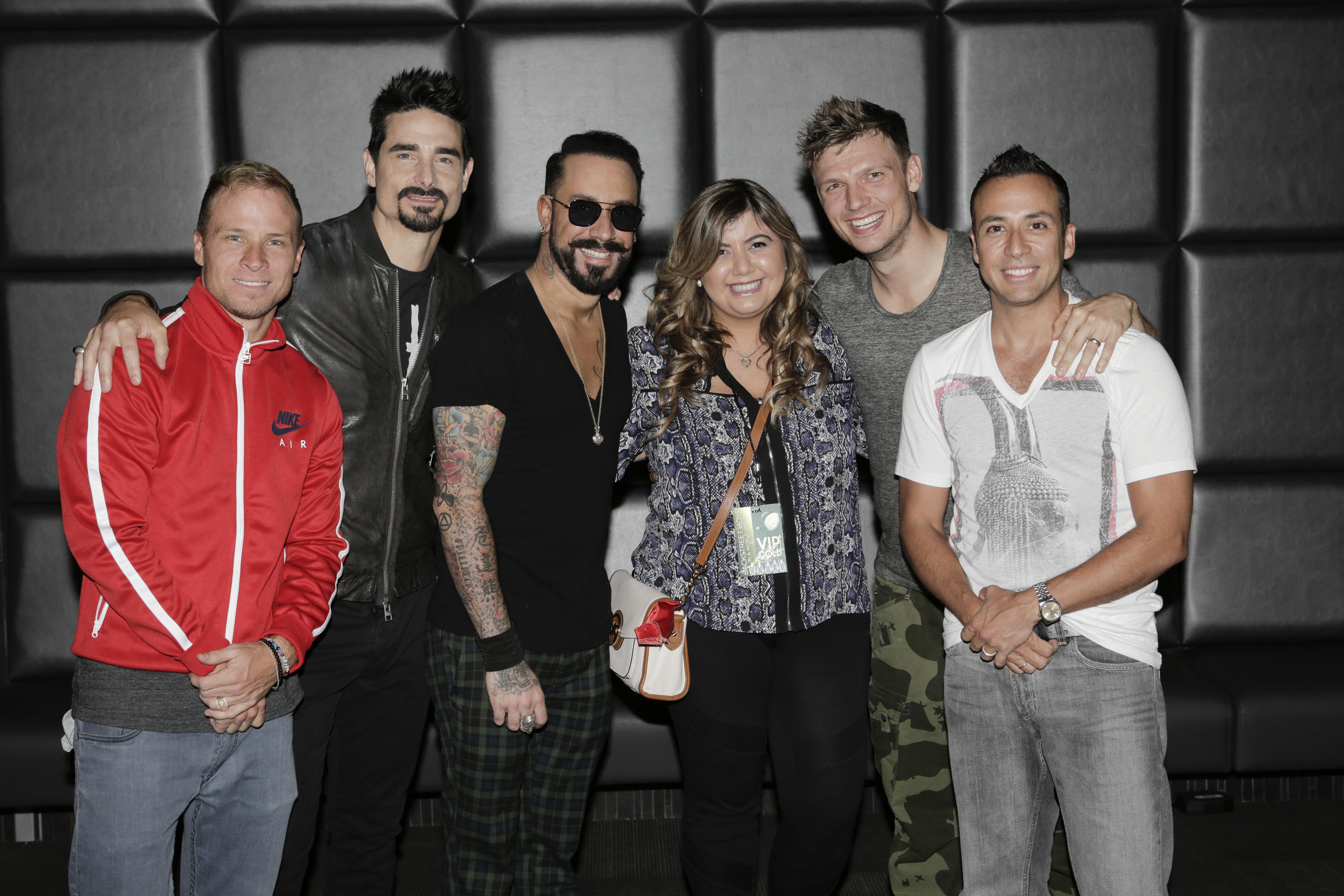 By Karah-Leigh Hancock
http://backstreetboys.com/users/karahleigh
@Princess_Karah