BSB Answer Fans' Questions, Give Back To Vegas, and Plan A Comeback To Israel
By now, you've all heard that the Backstreet Boys have added 21 new dates throughout 2018 to their insanely popular Las Vegas residency.
"The show has exceeded everything we thought it would be," Brian said of their decision to add more dates in a People exclusive, which also revealed that $1 from each ticket sale is going to the Boys & Girls Club of Southern Nevada. "To experience what this has been for us, it's a rejuvenation of that artistry that's in us."
Does that mean we'll keep seeing the same show?
"There's definitely talks about making the show evolve, especially once we have our new single come out, we'll probably add that into the mix," Howie told Entertainment Weekly after the announcement of the latest dates.
"Ultimately, it's about the energy and flow of the show," Kevin added in an interview with Vulture, when asked the same question. In the same interview, the Boys also confirmed that they have signed a record deal with RCA and while the album isn't quite done yet, fans can expect a single out soon.
Very soon.
In fact, when all five Backstreet Boys hung out at the Twitter and Facebook HQs in LA yesterday to promote their social media presale for the new Vegas dates, they were vocal about how soon we might hear the newest single… but remained tight lipped on the title and other details! However, they did answer other fans' questions about their love for K-Pop band BTS, a possible collab with Steve Aoki, Kevin's hair secrets, and more.
If you missed the live chats, no worries! Watch them below for everything you need to know (and some things you didn't) about #BSBVegas and the Backstreet Boys' 2018 plans (so far).
Following their social media day, the Boys headed back to Las Vegas to pick back up on their current run of shows at Planet Hollywood's Axis Theater. On Friday, though, it was all about giving back to the community that's been home for the past year.
Kevin, Brian, Howie, AJ, and Nick headed to the Boys & Girls Club of Southern Nevada clubhouse to talk to young people about the importance of hard work and persistence before shooting a few hoops with them, having a dance off and more. The Boys will continue to support the organization, which promotes programs and services that enable young people to reach their full potential as adults, by donating $1 from each Vegas ticket sale to the Boys & Girls Club and the great work they are doing in the Las Vegas community. Local station Fox 5 caught up with the Backstreet Boys during their visit - watch here!
Can't make it to Las Vegas? Keep your eyes on the event page and the Boys' social media channels for all the latest opportunities to see your favorite five.
ISRAEL -- you're up next! Tickets are on sale NOW to see the Backstreet Boys in your country. Stay tuned for more info on how you can get up close and personal with VIP upgrades only on backstreetboys.com.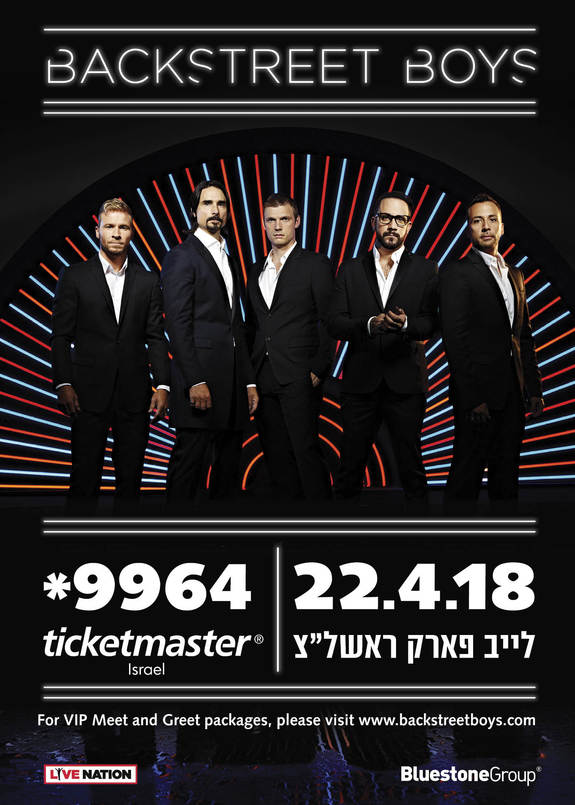 Backstreet Boys visit Twitter HQ to talk new #BSBVegas dates, new music and BTS