Howie and Leigh Celebrate 10 Years of Marriage!
As they mark their 10-year wedding anniversary on Friday, Howie and Leigh took a walk down memory lane, dishing fun stories on the early days of their romance. We caught up with the cute couple while they chowed down on PF Chang's backstage at The AXIS at Planet Hollywood before Howie hit the stage for BSB's Larger Than Life residency.
And, when it came to remembering her first day on the job as BSB's new webmaster in 2000, Leigh recalled some interesting advice from loved ones! "I remember my sister telling me, 'Put your hair up in a ponytail and don't put any lipstick on,'" she shared. "It was kind of nerve-wracking. Then within the next couple of days, I was at the office by myself in the evening and they just handed me a camera and a map of the video shoot for 'The Call,' and were like 'Here you go.' I literally got in my car and started crying. It was really overwhelming having to work onto a set with all these people and not know anybody."

"I drove to downtown LA, which is sketchy, and lucked out because one of my best friends ended up being their hair and makeup artist, so that made it a little easier," continued Leigh, who went on to work for Jerry Weintraub Productions on projects including Oceans 12 and Westworld. "Then Howie and I got talking while he was in the hair and makeup chair. He was definitely the friendliest!"

While the pair soon discovered they shared a love of theme parks, socializing and food, one major difference was their musical tastes. In fact, Leigh knew little about BSB's music when she landed the job. Over time, they introduced each other to their favorite bands, with Howie getting more into Primus and Ben Harper, while Leigh learned about Sade, Maxwell … and BSB!

"I had literally never listened to their music before I started working for them," Leigh, 43, confessed. "I grew up on rock and reggae and my parents were friends with Bruce Springsteen and a lot of people in that camp, so I was going to shows and backstage when I was 5-years-old. I thought that was the norm until I hit my teens and started going to concerts on my own and was like, 'Wait a minute, I want to be back there!' Obviously, I figured out a way to get backstage again!"

Seventeen years on from their first meeting, the couple have built a strong marriage and beautiful family, with two adorable sons, 8-year-old James (who has his own YouTube channel, James the Great) and 4-year-old Holden. With his boys growing up fast, Howie admitted it's getting harder to leave them for his BSB commitments. "James is now like, 'Are you leaving again, Dad? Ohhh,'" said the 44-year-old "100 Kisses" singer. "Before I would joke they don't even know who I am or if I'm in the house! James is now getting more emotionally-attached to me coming and going. But he always talks about me and he knows he has a [famous]. He videotaped the whole show for me the other night!"

The couple admitted that a part-time long-distance relationship remains challenging, but they've learned to put in the effort to enjoy date nights and quality time together -- like in in Las Vegas -- whenever they can. "The distance is hard and people think that when you're apart you just come back together and it's easy, but it's hard both ways," Leigh said. "It's hard when he's leaving, then we're doing our own thing, then we come back together and that can be challenging because you get so used to doing your own thing. It has its challenges, but we make sure we put the time in to reconnect and communicate and the time away from the kids is really important!"

With BSB currently in the middle of a run of Christmas radio shows, the Florida-based couple will get to be with each other on their anniversary, but are contemplating a belated anniversary vacation in Bali when scheduling allows.

Regardless of the challenges of juggling boy band life with family time, Howie noted he wouldn't swap it for anything. "Being married and having kids has taught me that it's not all about me," he said, reflecting on the decade that's passed since he declared "I Do" with Leigh at his family church in Orlando, Florida. "You have to become -- as Brian would say -- selfless. If I didn't have a relationship I probably would be so consumed with work, work, work. My life would be unbalanced. I think having a relationship and kids is part of life. I'm so blessed with my career, but these are also things that are part of what should be life. So, it's definitely taught me to not only put myself first, but make sure I'm taking care of other people as well and making it feel like an equal balance for them as well-- it's important for them to feel like they're a priority as well."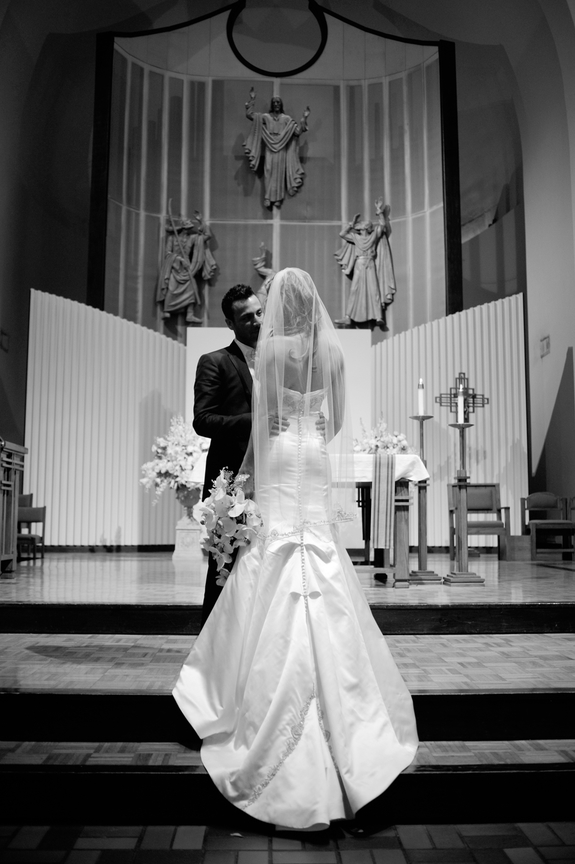 Congrats to Howie and Leigh! See more from the interview at ET Online.
By Leena Tailor / @LeenaTailor
Photos by: Damon Tucci